A New Lightroom Update (includes Canon 5D Mark IV Support) and Some New Tweaks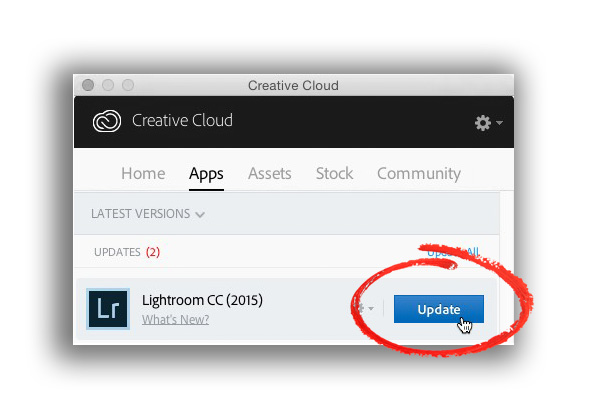 Ever since Canon's 5D Mark IV started actually shipping, I've been heaving a steady stream of people asking "When is Lightroom going to supports the Mark IV?!" – Well, today's the day (well, technically, yesterday) — Adobe released an update that mostly adds support for new cameras (along with the 5D Mark IV, they also added support for the new iPhone RAW formats, including the new iPhone 7, plus the just-announced GoPro Hero5 Black, and the Nikon D3400, among others), and a host of new lens profiles as well.
Also, tethering support was added for the Nikon D5 and the Nikon D500.
There are three interesting tweaks as well – Here's how Adobe describes the new enhancements: 
(1) "Updates to 'All Synced Photos' – You can now drag images directly to the 'All Synced Photographs' collection in the Catalog panel.  By doing so, the image syncs with the Creative Cloud, and ensures that you'll be able to edit, organize, or share the photo on the go with Lightroom across your devices."

(2) "Smart Previews for Faster Performance – "Astute customers reported faster performance in the Develop Module when using Smart Previews and keeping their original images disconnected from their computer.  Now, you can set a Preference in the Performance tab so that Lightroom will always use Smart Previews in the Develop Module, if they are available, even when the original files are also available."

You'll find this new preference, under Preferences; click on the Performance Tab and turn on "Use Smart Previews Instead Of Originals For Image Editing." Click OK and restart Lightroom.

(3) Publish to Adobe Stock Contributor Site: "You can now submit images directly from Lightroom CC to the brand new Adobe Stock Contributor Site using the included Adobe Stock Publish Service.  By contributing to Adobe Stock, you have the opportunity to showcase your work to millions of customers directly inside Creative Cloud applications."
Plus, all the usual bug fixes and stuff to make Lightroom more stable. Good news all around.
OK, I'm off to teach my seminar here in Minneapolis today
Hope to meet a bunch of you in person (we have a great group of about 250 photographers signed up for the seminar today – looking forward to meeting everybody!).
Best,
-Scott