New Class: Creating Beautiful Wedding Albums in Lightroom CC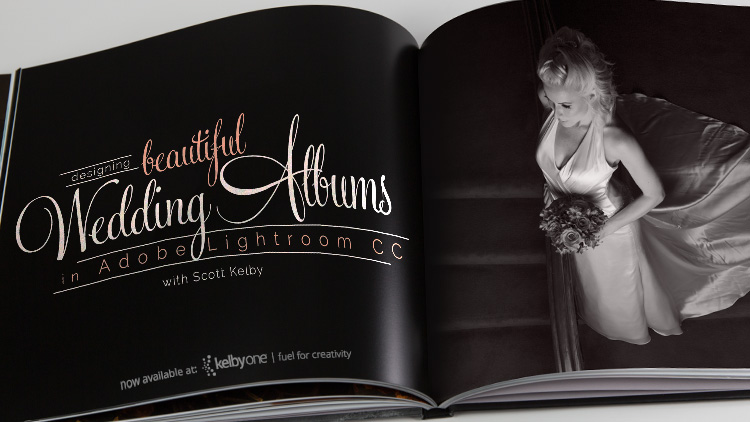 Hi Gang: Last Thursday on KelbyOne we released a brand-new class I did called "Creating Beautiful Wedding Albums in Lightroom CC" – and it's different than my existing class on Creating Photo Books in Lightroom CC, in one big way:
It's about the design and layout of the Wedding Album
While of course, it does teach you how to put together your album using Lightroom's Book Module, the focus of this particular class is really on the actual design and layout techniques more than just using Lightroom (after all, my other class goes in to all the nuts and bolts stuff).
One of my favorites parts of the class is…
…where I share some of my own favorite layouts along with some bonus layouts I created in Lightroom just for this class. Plus, there's all sorts of tips and design ideas that will really made a difference in the overall look and feel of your album.
The feedback on the class has just been fantastic, and if you shoot weddings, I encourage you to check it out. One of the first comments I saw about the class was from a photographer who couldn't believe how simple it all was. That was my goal — to make it so simple anyone can do it, and make the book so beautiful the bride falls in love with you and leaves the groom for you (hey, it happens. Not often mind you, but sometimes. It's rare though. But it happens. But I wouldn't go into this counting on it, but if it happens it happens).
Here's the link to the class.
If you follow that link, you can watch a short preview of the class, and if you're already a KelbyOne member, I hope you'll check it out. If you're not a member, you can still sign up for our 10-day free trial and watch it that way. Either way, you can watch it today.
Hope you all have a fantastic Tuesday (the kind of Tuesday where a bride leaves her….aw, forget it…it's never gonna happen). 😉
Best,
-Scott