Have You Tried The Live Filters for Lightroom Mobile's Built-in Camera?
OK, I know some of you are probably saying about now, "Lightroom Mobile has a built-in camera?" It does, and it's actually a pretty darn full featured one at that (more on this hopefully on Friday), but in the meantime I want to point out a feature you might have missed as Adobe snuck it in the December CC update — the ability to apply filters while you have Lightroom's built-in camera app live, so you can apply a filter and see what it's going to look like before you even press the shutter to take the shot.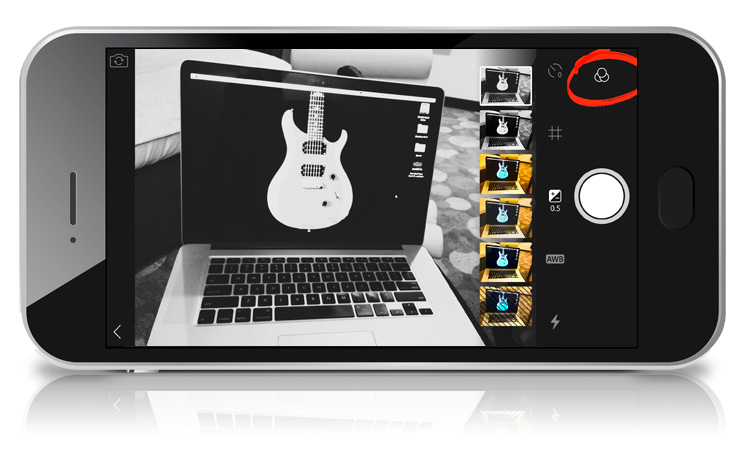 When you're in Lightroom Mobile's Camera App (you get to it in the first place by clicking the little Camera icon in the bottom right corner of the screen), you'll see an icon that looks like three overlapping little bubbles (well, at least that's what they look like to me). Click right on that icon (button, whatever — it's shown circled here in red), and the filters pop-up (as shown above). Click on any one, and it applies the filter effect live on screen (this one is "flat black and white" and it's a pretty popular look. By the way — enjoy that lovely shot of my laptop and part of my sneaker taken in my hotel room in Birmingham, UK tonight. Lovely, I know). 😉
That's it – just wanted to make sure you knew they were there in case you missed them in the last update (there are six filters in all, and a "none" [the one on the bottom here]).
Hope you find that helpful. 🙂
Cheers,
-Scott
P.S. Thanks to everybody who came out to my sold out session at The Photography Show here in Birmingham yesterday. Met some cool readers of the blog here (and saw our friend Lightroom Guru Sean McCormack as well. Top man!). Hope to meet even more of you in my session today. 🙂