Rolling Back to a Previous Version of Lightroom Classic
Maybe the latest update is causing you a problem, or maybe you just want to try a test, or maybe some third-party plug-in isn't working with the current version? If you have a good reason to roll back to an earlier version, it is a very easy thing to do thanks to the Creative Cloud Application Manager.
Note, I've been following the reports of crashes and preset problems related to the 7.3 update, and have seen multiple people ask for a way to go back to Lightroom 7.2, at least until the problems they are having are fixed. If you are having a specific problem be sure to post it over in the Lightroom Family forum (or chime into an existing thread on your issue) before rolling back. 
I can't tell you how many times I've uninstalled and reinstalled various versions of Lightroom over the years, and it couldn't be easier (I even did it twice writing this post for testing purposes). Uninstalling Lightroom doesn't touch your catalog file(s) or your photos. It just removes the program. That said, it is always a good idea to have a solid backup in place before you do anything like this. So, go ahead, I'll wait.
You can uninstall Lightroom Classic right from the Application manager. On a Mac, you'll find it up in the Menu bar. On Windows, look down in the Notification Area by the clock.
Once you open the Application Manager scroll down to find Lightroom Classic, and click the down-facing arrow to the right of the Open button, and choose Uninstall.
Choose to keep the app preferences when prompted.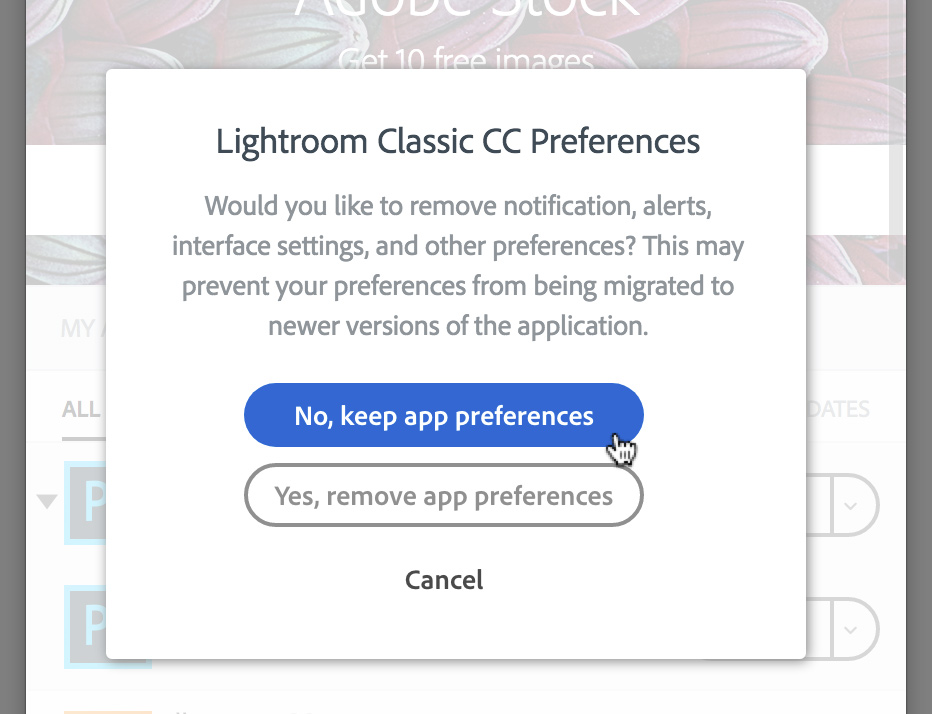 That will remove the current version of Lightroom Classic from your system. Now you are ready to roll back to the previous version by choosing which previous version you want to install. If things were fine before the update, then just going back one "dot" release should do the trick.
To access the previous versions, go back to the Application Manager, but don't just click the Install button. Instead, click that same down-facing arrow to the right and choose Other Versions.
That will open a popup dialog with other versions going all the way back to Lightroom 5. No need to go that far, just choose the last version that worked for you within the current release (you can't open a current catalog with an older version of the software). I went back to 7.2 for the purpose of this exercise.
Once the progress meter in the Application Manager is done, you can launch Classic and hopefully be back to state that was more stable for you.
You can verify the version being used by going to Help > System Info, and you'll see it listed as the top item.
Hopefully the next update fixes whatever problem you are having so you can keep moving forward with the latest and greatest.