How to Find Which Images Don't Have Smart Previews (or vice versa)
Hi everybody, and a very happy Friday to you!
If you want to quickly find out which images in your library don't have Smart Previews (or, if you want to remove Smart Previews from your images to save space), here's what ya do: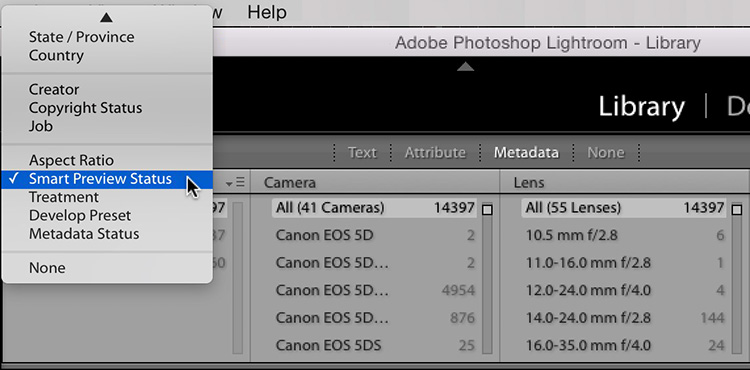 STEP ONE: Go to the Catalog Panel (in the left side panels), and click on "All Photographs." Then, in the Library module make the Library Filter Bar up top visible by pressing the back slash key on your keyboard (this shortcut toggles the bar on/off). Now, click on the Metadata tab; then click and hold on the column header at the top of  the first column on the left (it says "date" by default) and from the pop-up men that appears choose Smart Preview Status, as shown here.
STEP TWO: This  displays the number of images that do and don't have Smart Previews. Click on "No Smart Preview" to display all those images without smart previews (if you want to add Smart Previews) or click on "Has Smart Preview" if you want to remove them all.
STEP THREE: Now go under the Library menu; under Previews; and choose Build Smart Previews (as shown here), and it will build smart previews for all your images that didn't already have them.
Hope you find that helpful.
Hope you all have a great weekend. I have something fun to announce on Monday, so I hope you'll stop back by then. 🙂
Best,
-Scott
P.S. I posted the images and story from my recent photo trip to Iceland – here's the link if you've got a sec.