Speeding Up A Slow Lightroom, Our Detective Work Continues…
So I heard from my buddy whom I wrote about last week who was struggling with his Lightroom speed (it's was slow as molasses), and he has tracked down the main culprit (it's was not Col. Mustard in the Library with a Candlestick, as previously surmised).
So…what was it?
It was the Preset Preview feature (which is a relatively new feature that gives you an on-screen preview of any Develop Module preset you roll your mouse over). It's kind of computing intensive to generate full screen previews on my fly like that, and he has just a ton of presets (I would tell you the number, but you wouldn't believe it). Anyway, once he turned that feature off, the molasses dripped right off his Lightroom and it's back to being pretty zippy again.
Where do you turn that feature on/off?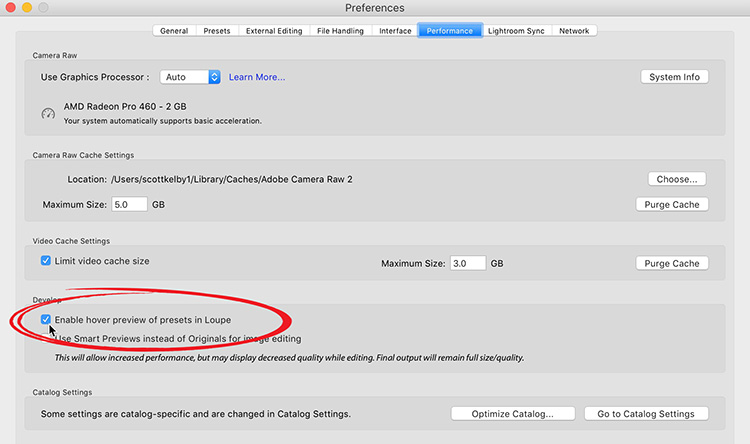 Go to Lightroom's Preference, and then click on the Performance Tab, then turn off the checkbox for "Enable Hover Preview of presets in Loupe." (Yup, that's the super-descriptive, easy-to-understand name I would have given that setting). 😉
Anyway, that's what made the big difference for him, and I'm so happy for him, because he was really struggling along at that speed. Lightroom should be pretty darn zippy, and if it's not on your machine, there is some setting that's wrong. That's what this Lightroom Speed Detective series has been all about.
I Announced my 12th Annual Worldwide Photo Walk Today
All the details are over on my blog today (Spoiler Alert: It's Saturday, Oct 5, 2019). If you don't feel like jumping over there, here's the video with the full scoop (below):
Hope you can join us in October. Have a great weekend, everybody!
-Scott
P.S.I'm off to the Photoshop World Conference in Las Vegas next week. We'll belive-streaming the opening keynote – I'll have a link here on Wednesday to catch the live stream. See you in Vegas (it's not too late to come – go tophotoshopworld.com for details and travel info).