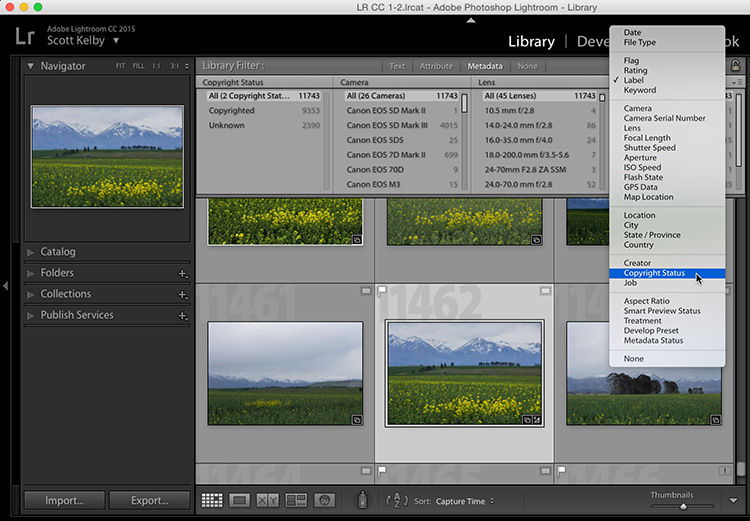 Hi gang – there's a quick way to go through your catalog and make sure all your images have your Copyright info embedded into them. Here's how:
(1) Go to the Catalog panel and click on "All Photographs"
(2) Go the Library Module; make sure the Filter bar is visible (press the backslash key to toggle it on/off)
(3) Click on the Metadata tab, and then click directly on any one of the column names (as shown in the example above) to bring up a pop-up list of sorting choices. Choose Copyright Status as shown. Now it will show the number of images in your catalog that are Copyrighted, but you want the number that are listed as "Unknown" (take a look in the first column, where I chose Copy Status previously).
(4) Now click on that number of "Unknown" status images, and it displays thumbnails of just those images. Press Command-A (PC: Ctrl-A) to Select All the image, then go to the Metadata panel; choose your Copyright info preset from the metadata pop-up menu, and it applies your Copyright info to all those selected images. That's it.
Hope you find that helps, and here's wishing you a great weekend. 🙂
Best,
-Scott
P.S. If you're a KelbyOne member and you want to learn exactly how to protect your images, make sure you watch our Copyright Essentials for Photographers Class, with attorney Ed Green and photographer rights advocate Jack Resnicki. Here's the link.