Lightroom Mobile Week – Day 2 – Better Retouching is One Tap Away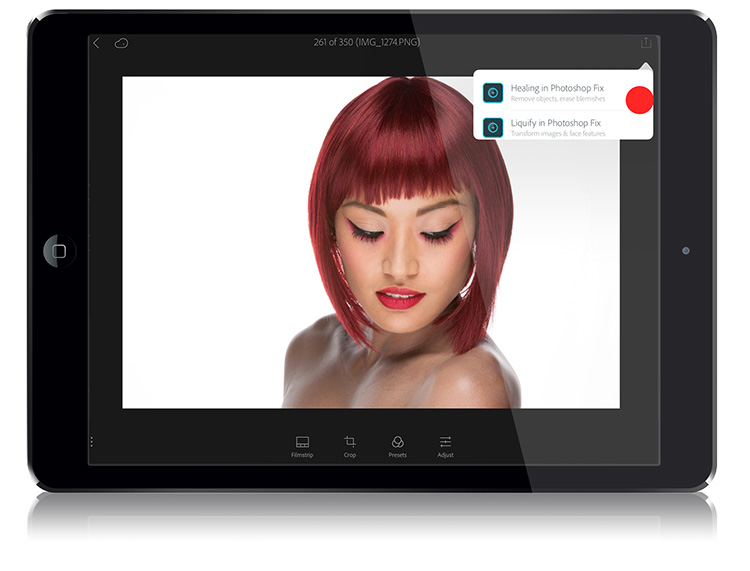 Retouching in Lightroom for the desktop is pretty limited, so you can imagine how limited retouching is in Lightroom Mobile is, but that actually got a whole lot better with this latest release — not by adding new retouching features to Lightroom Mobile (or desktop), but through a free App Adobe released called Photoshop Fix, and there's a built-in direct link to jump your image from Lightroom Mobile straight over into Photoshop Fix, so you can do your retouching there.
First, download the free Photoshop Fix app from the App store (it's IOS only at this point, but Adobe says an Android version is "coming soon.") Then, when you're in Lightroom Mobile and want to take an image over to Fix for retouching, tap the Share button in the top right corner of the screen, and then tap on "Edit In" and the pop-down window you see above appears. Tap on either choice you want (I chose "Healing in Photoshop Fix") and it copies that image and opens it in the Photoshop Fix app almost instantly.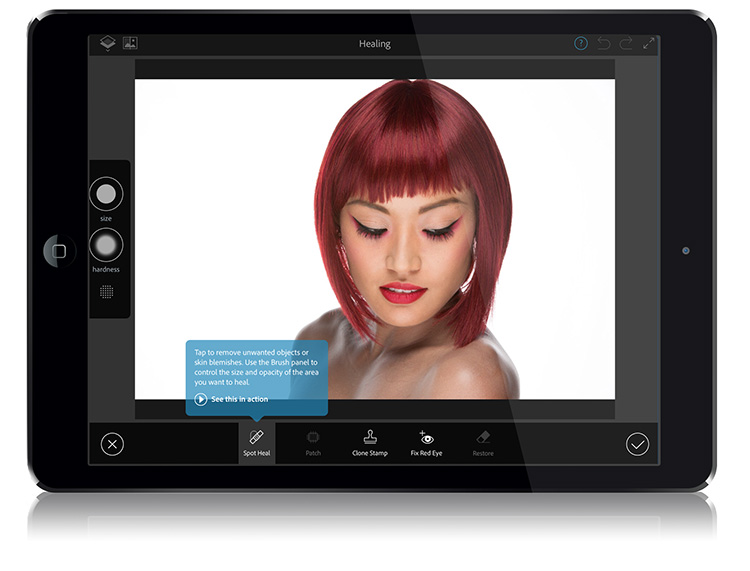 So, how good is Photoshop Fix, really? It's freakin' astounding! It's actually just about too good. It's healing brush, clone stamp tool, and other retouching tools (including some adjusting facial features) are just…well they're too good. Some of its features should be in "real" Photoshop on the desktop, buy they're not — only found in this free Adobe app. I'm still scratching my head, but what the heck — it's here so let's make the most of it.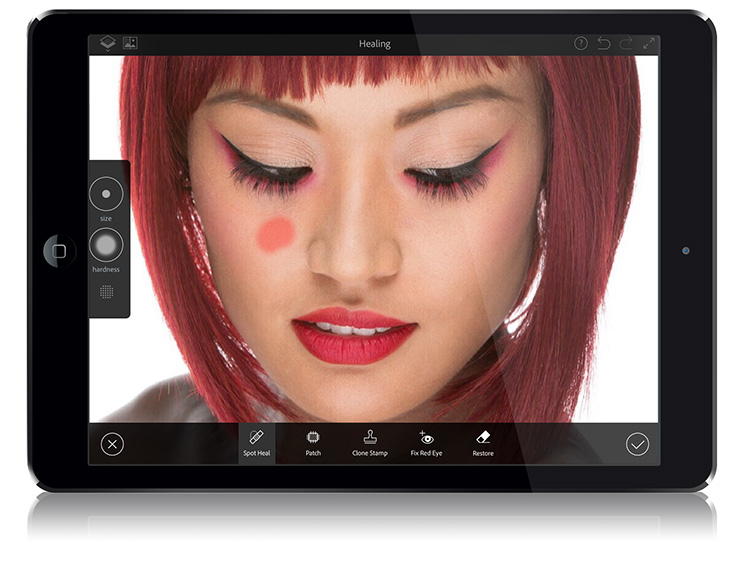 A lot of what us LR Mobile users will be doing is removing blemishes, wrinkles, stray hairs, and stuff like that, and in Photoshop Fix you literally just paint over these problem areas with your finger, and they results are Photoshop-like for sure. It's like it was born to work with Lightroom Mobile! (and it's free, so how can you not try it out).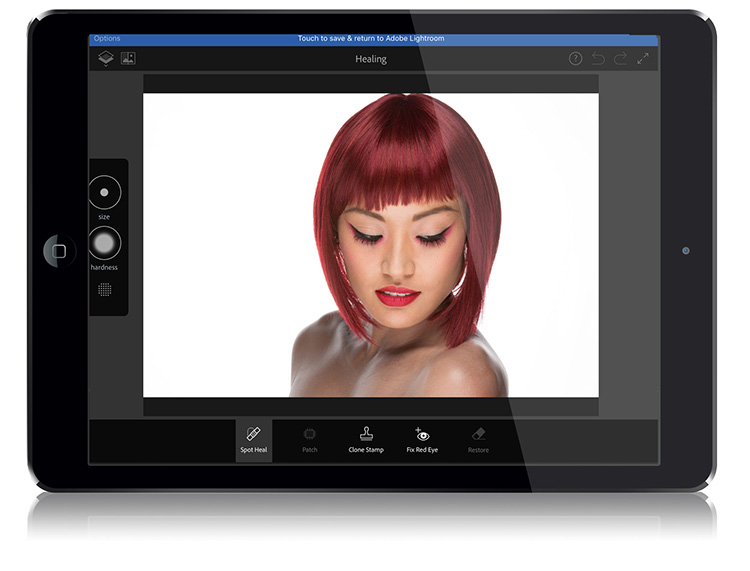 Above: Once you're done in Photoshop Fix, tap the blue bar across the top of the screen and it saves your changes and sends the image back to Lightroom Mobile. If you're sync'd to the Desktop version of Lightroom, it sends back an edited  image in JPEG mode at a smaller size, based off the Smart Thumbnail it sent in the first place (in other words; it doesn't apply these Photoshop Fix edits to the RAW file — it creates a duplicate file in JPEG mode, at a lower resolution, and sends that). For example, for a test image I edited; the original Raw file was 5,760 pixels on the long edge, and the Fix-edited JPEG was 2,048. Still a decent sized file resolution while, but less than half the size of a comparable raw image. Just so you know.
Anyway, these two make a pretty powerful team for mobile editing, expanding Lightroom's retouching power beyond what we can do in even the desktop version of Lightroom alone, and that's sayin' something.
I hope you'll give Photoshop Fix a look. It's way better than you'd think, and more powerful than you realize. s 🙂
That's a short, sweet, quickie for this Tuesday.
Best,
-Scott
P.S. Yesterday I shared some images from my photo shoot at New York City's hidden gem — The Morgan Library. If you didn't get a chance to see them, here's the link.