Gradient Filter Tip (plus our book winners!)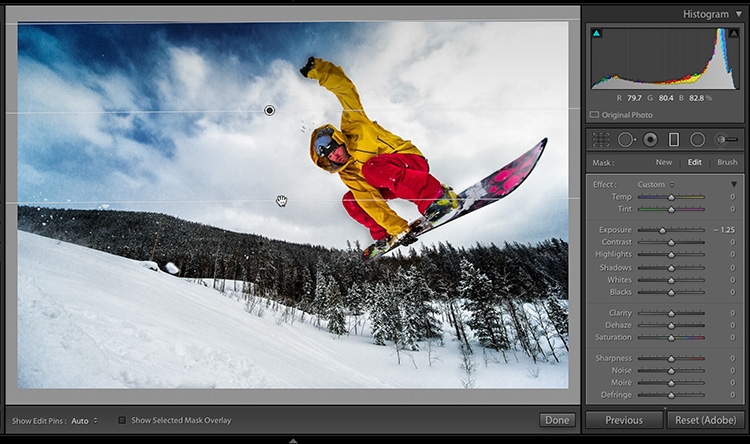 We've got the winners for "Photoshop for Lightroom Users" book giveaway, but first…here's a quick tip-a-roonie for using the Gradient Filter. In the image you see above, I'm using the filter like a Neutral Density Grad filter, where I've lowered the exposure amount; dragged from the top of the image down to where you see the hand icon (center screen) to darken the sky. The problem is — it also darkened the snowboarder's arm and shoulder, which we didn't want (we just wanted to darken the sky behind him). Here's what to do: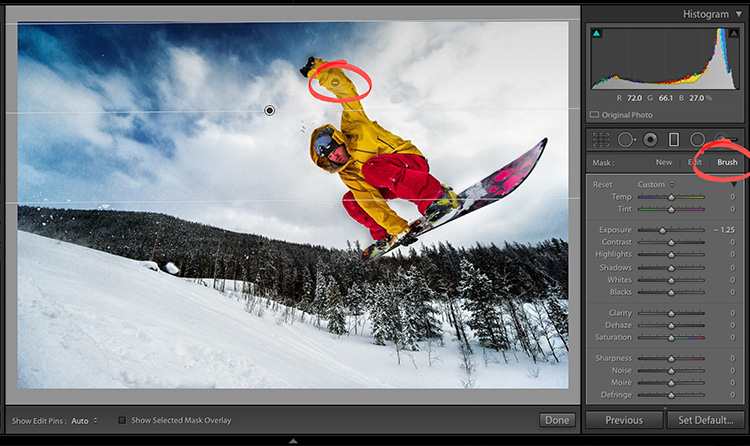 Click on the "Brush" tab at the top of the Gradient Filter panel (shown circled in red above right), then hold the Option key on Mac (Alt-key on Windows) and paint over the snowboarder's arm, and it removes the darkened created by the gradient filter in just the areas you paint over. That's it!
OK, now for the book winners: Congratulations to:
Joan Sullivan
Christian Sonntag
Dawn Spaulding
Tom Syroid
Doody Atraktsi
Who all won a copy of my "Photoshop for Lightroom Users" book (yay!!!!). My assistant Lynn Miller will contact you directly to set up getting you your copy. 🙂
Today on "The Grid"
You all are invited to join me and my special in-studio guest the awesome Moose Peterson and our topic is "10 Things Photographers Need to Stop Doing" – hope you can join us at 4pm today (new york time) at http://kelbytv.com/thegrid – see you then!
Best,
-Scott