How to Find Your Missing Unlinked Photos Fast
It's one of those things that drives a lot of us crazy, and a key part of the solution is so easy to overlook, you might never realize it was there in the first place.
The problem: Having images all throughout your catalog that are "missing" (they're not linked to the high res image, and they don't have smart previews, so they're basically just a low-res thumbnail, so you can't edit it in the develop module, or maybe even see a decent size preview of it).
The solution:  is to instantly find all those missing images and gather them in one place so (2) you can show Lightroom where the originals are now (which relinks the thumbnail to the high-res image, making them editable again).
To do that, in the Library module go under the Library menu and choose "Find All Missing Photos" as shown below. This instantly goes through your entire library and display just the images that have lost their link to the original (in my case, it's 544 photos) so you can tell Lightroom where the original are now located (then the photos will be linked and not "missing" anymore).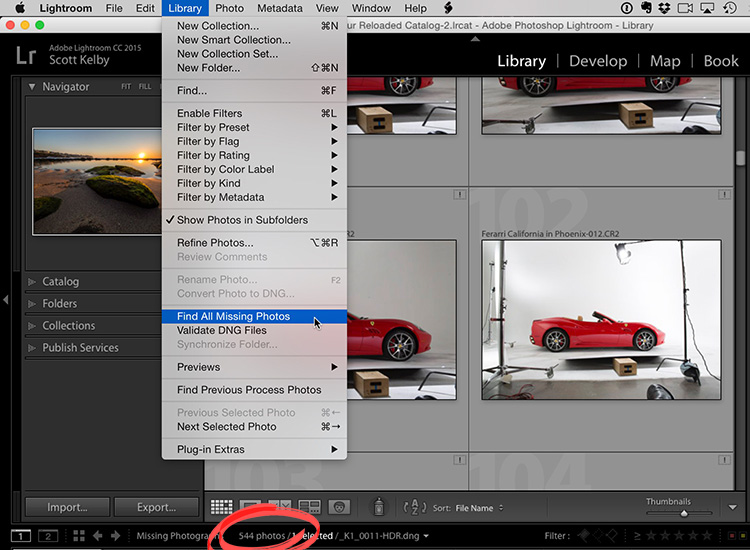 This is a handy one to know for that weekend you've been meaning to set aside to finally get your catalog organized. Could this weekend (hey, ya never know).
Hope you find that helpful.
Best,
-Scott
P.S. Hey, I'm in Philly next week. Want to come out and spend the day with me at my Shoot Like a Pro: Part 2 (reloaded) seminar? Yeah — come out out (details here).